Day 5 - Homemade Holidays:
Sometimes the Christmas Season can be taken over by the greed of large corporations trying to make an extra buck off this time of giving. Wrapping paper, decorations, and so much more can sometimes cost three times their normal amount. Well, here are a few options to help you get around the extra costs and make your holidays homemade and hassle-free.
Merry Christmas Bunting
Decorations are essential during the holidays but buying garland at this time of year could cost quite a bit. Instead, head over to your nearby fabric store and pick out a Christmas color palette to match your decor. Then create a simple Merry Christmas banner. If you don't have a sewing machine, this can easily be done by hand or you could find a sewing center where you could borrow a machine and get some help. To make the letters just simply print out the type of font you want on a full-size piece of paper and use as a template. Not only is this inexpensive but it is re-usable and you could make more for other events like birthdays or Thanksgiving.
Check out this great video from MJH Crafts about creating a flag bunting.
Or, if you want to fork out the cash you can buy the banner at Sass & Belle UK.
Wreaths are also a traditional part of Christmas. Here are a few homemade ideas.
Book Wreath

What you need:
Old book
Coffee
Cardboard
Glue
Images from ShopRuche.com
Instructions:
Preheat oven to 200 F. Pour prepared coffee into a dish and dip old book page. Place pages on a dry cookie sheet and place in the oven for about 6 minutes or until the sheets are dry.
Roll the paper from corner to corner and glue in place. Bend the bottom so it points back.
Cut out a circle in the cardboard. Glue the bent part of paper to the cardboard. Make sure to stagger the pieces. See images above for guidance.
Continue until you reach your desired fullness.
Image from Shopruche.com
What you need:
Your choice of yarn
Your choice of ribbon
glue
Foam wreath base
Instructions:
Glue one end of yarn to foam base on the backside.
Wrap yarn all over wreath until covered. Keep the yarn tight to prevent gaps.
Glue other end of yarn to backside of wreath.
Attach ribbon.
Image from Crafting Mom
This beautiful wreath can be altered for any event. If you want a Christmas style then replace berries with holly or evergreen sprigs and select different fabric colors for the rosettes.
What you need:
Rosette Template DOWNLOAD TEMPLATE HERE
Grapevine wreath
Felt (in various colors – use any colors you'd like for your flowers)
Hot glue gun & hot glue
Double stick tape
Fall berry picks (or other accents like holly leaves)
Instructions:
Download and print out the Rosette Template. Use the template to cut the "swirl" shapes out of your felt (you can adjust the size of your swirl to create larger or smaller rosettes).
Start at the end and roll it. The tighter you roll it up, the smaller the rosette will be; if it is rolled more loosely, the rosette will end up larger. Once the flower was almost completely rolled, I used a little double stick tape to keep it rolled up (double stick tape is great because you can take it off if you need to adjust your flower and then just stick it back on). Then I finished rolling it up by putting the end on top of the tape, and the whole rosette stays together and keeps its shape.
Wrapping can require tons of paper, bows, and more! Here are some ideas to cut down on these extra costs.
Cinnamon Sticks Bow
Instead of buying tons of bows that will be ripped off an thrown away instantly, why not buy cinnamon sticks and tie them together to place on top of gifts. Remind friends that you can pop these in a pot of simmering apple juice and make some delicious apple cider on Christmas day. Try not to buy cinnamon sticks in the spices section of your grocery store but instead buy them at a Mexican market where they are much less expensive.
Newspaper Wrapping
Image from Flickr
Grab some old newspapers or magazine and start wrapping. Add accents of red, gold, or green ribbon to make it more festive.
Kraft Paper Gift Wrap by Martha Stewart
Image from marthastewart.com
This simple wrapping paper allows your tree to shine.
Shimmering Stacked Trees by Martha Stewart
Image from Marthastewart.com
If you are a little more experienced with crafts then this may be perfect for you!
Advent Ornaments
Image from Marthastewart.com
Turn your tree into an advent calendar. Hang numbered small paper bags full of candy or create your own type of ornament to hold a nice surprise.
Mittens Stockings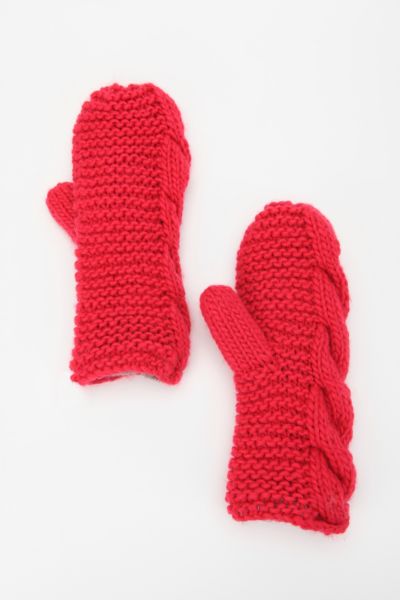 Image from Urban Outfitters
Turn the stockings themselves into gifts with these Cozy Lined Mittens from Urban Outfitters. Fill them up with treats and trinkets.
Tinsel Snowflake Ornaments by Martha Stewart
Image from Marthastewart.com
This simple decoration from MarthaStewart.com can be made in an array of colors and shapes.
Instructions:
Enlarge templates as desired using a photocopier (5 to 12 inches in diameter).
Tape to a piece of heavy mat board or smooth cardboard; place over a protective surface, such as a self-healing mat.
Using a utility knife, cut through layers to create snowflake shape. Remove template. Using a medium paintbrush, coat one side of shape with craft glue. Sprinkle with fine glitter. Let glue dry; shake off excess glitter.
Repeat, using glass-shard glitter. Repeat process on other side. Using silver thread, hang snowflakes from removable adhesive hooks.
Pine Cone Ornaments

If you live in an area where pine cones are plenty then pick up a few from your yard or park. Grab a can of metallic spray paint and apply to the pine cones. Attach the pine cones to ornament clips to decorate your lovely tree.